The Art of Moderating
How to create an inspiring setting for a discussion? How to engage audiences from different backgrounds? How to pleasantly interrupt overexcited speakers? These kind of questions are at the hart of meaningful moderation. A skill that can be beneficial for all who want to improve public discussions, political and participatory cultures, workplaces, or local communities. And a skill that can be learned.
During the past twelve years of training and coaching moderators and organisers we have developed three specific courses (see below). These courses are a pleasant mix of group exercises, individual feedback, tips & tricks, and some theory. The length can be between one and three days, depending on the available time. We work best in groups of seven to twelve people.
As a participant you will receive:
An intake to discuss your personal learning goals
A handout with course materials
A Copy of my booklet 'On the Art of Moderating'
Afterwards one coaching session of 1.5 hours
Get in touch for more information and bookings.
Order your copy of 'On the Art of Moderating'.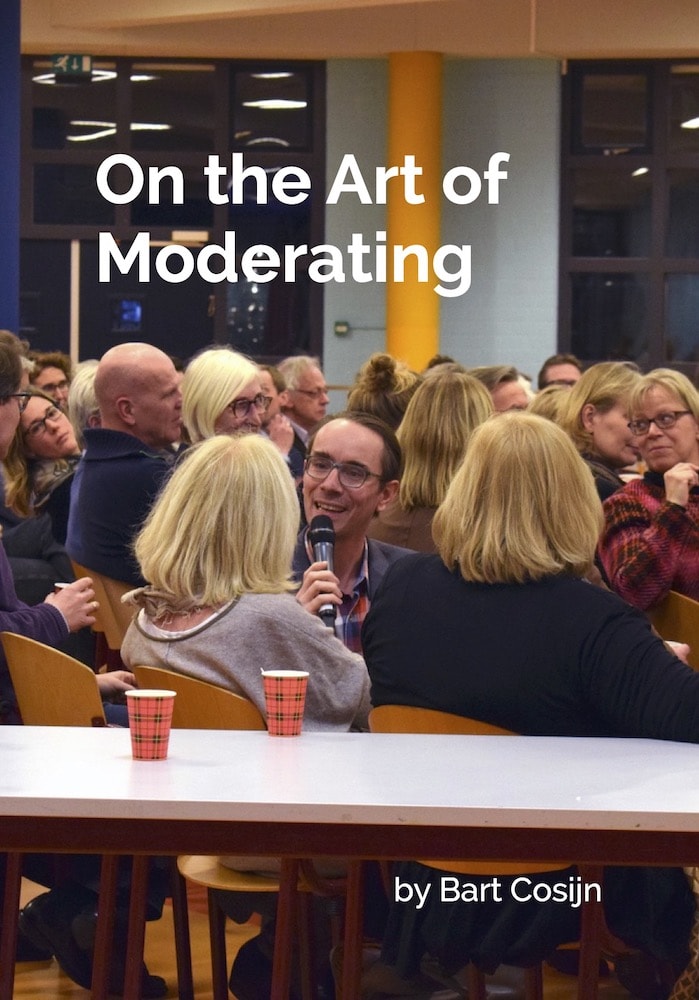 The Event Circle
At the basis of courses that we teach is a model that we call The Event Circle. It consist of three sequential steps which are all important to create succes:
Programming: Why is this event (debate, dialogue, conference, etc.) organised? What is the central question or theme? Who should participate and why?
Formatting: Which discussion-format fits the goal best? How should roles best be divided? What kind of moderation or facilitation is needed?
Moderating: How realise the most fruitful interaction? How to bring all the necessary viewpoints to the table? Who owns the conclusions and why?
Courses
Course 1
Moderation and Facilitation (I)
Beginners level; focus on all crucial aspects of moderation
You will learn about:
Preparing for an event and your role
Creating a welcoming setting
Directing content and form
Listening, summarising, questioning
Engaging audiences
Helping and intervening
Using space, light and sound
Course 2
Moderation and Facilitation (II)
Advanced level; focus on interaction and engagement
You will learn about:
Making interactive openings
Deepening the discussions
Improving timing and interventions
Switching between different roles
Reading group-dynamics
Dealing with (hidden) tensions
Developing a personal style
Course 3
Organising Public Discussions and Debates
All levels; focus on all three steps of The Event Circle
You will learn about:
Defining what is at stake
Framing central issue(s)
Choosing interaction formats
Sufficient engaging of participants
Recruiting and preparing speakers
Selecting and instructing moderator(s)
Preparing the venue and setting